Sugar Free Wine Gums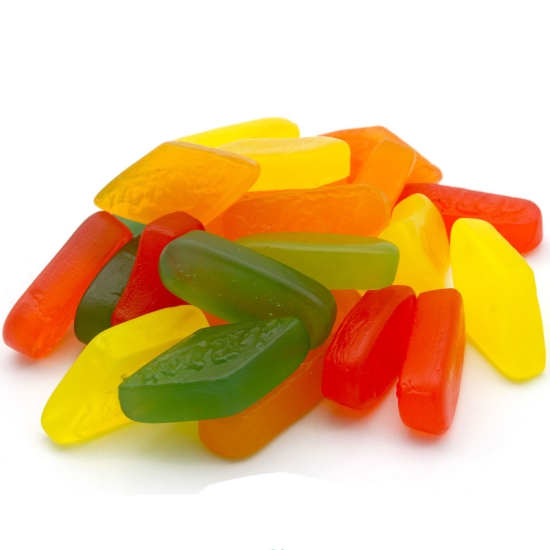 BEST SELLER! Sold Out!
Sugar Free Wine Gums

De Bron
Sugar Free Wine Gums: Sugar Free Sweets
Loved by many the wine gum is a confectionery classic. In the mix, you'll find all the familiar gummy shapes of regular wine gums but these are entirely sugar free.
100g Bag

Excessive consumption of sugar free products can cause laxative effects.
Product Information
Ingredients/Contents
Sweetener (maltitol),water, starch, gelatin, acidity regulator (E260, E270), aromas, surface treatment (coconut oil), carnauba wax, colours (E100, E120, E160a, E133). Net Weight 100g. WARNING: CONSUME IN MODERATION, EXCESSIVE CONSUMPTION CAN CAUSE LAXATIVE EFFECT. NOT SUITABLE FOR CHILDREN UNDER 5.
Additional Information
Bag Size 100g
Sugar Free
Gluten Free!
Plastic Free Packaging!
About Us

Indulge guilt-free in our delightful selection of sugar-free sweets and sugar-free wine gums.

At Handy Candy, we understand your desire for a healthier treat without compromising on taste. Our meticulously crafted sugar-free confections are the perfect choice for those looking to satisfy their sweet tooth while adhering to a sugar-free lifestyle.

Our range of sugar-free sweets encompasses a wide variety of flavours and textures, from fruity gummies to creamy chocolates. Each product is sweetened with alternative, natural sweeteners like stevia or erythritol, ensuring that you can enjoy your favourite treats without the added sugar.

Why choose our sugar-free wine gums? They offer a burst of fruity goodness without any sugar content. Ideal for both kids and adults, our wine gums come in an array of vibrant colours and mouthwatering flavours that will leave your taste buds tingling.

To boost your health and happiness, shop our sugar-free sweets and wine gums today. We cater to the sugar-conscious, ensuring that our treats are not only delicious but also promote a balanced lifestyle. Explore our selection now and discover the sweet freedom of sugar-free indulgence.