Nestle Smarties - 3 Rolls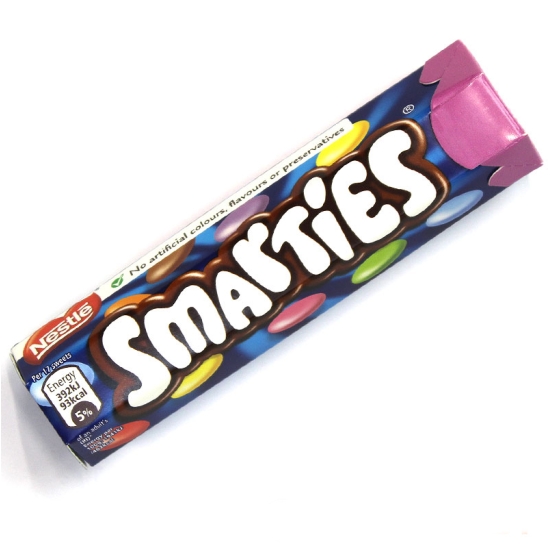 BEST SELLER!
Nestle Smarties - 3 Rolls

Nestle
Nestle Smarties - 3 Rolls: Chocolate
Something of a Brit institution and beloved by generations, Smarties are often imitated but never matched - you know when you're eating an imposter! So the original tube with the plastic letter cap is long gone, but the sweets are just as you remember. Buttons of crispy, crunchy, colourful candy shell with milk chocolate inside. And the orange ones do definitely taste different! No artificial coliurs, flavours or preservatives so practically good for you! *wink* Quantity of 3.

Product Information
Ingredients/Contents
sugar, cocoa butter, skimmed MILK powder, cocoa mass, butter fat (from MILK), WHEAT flour, lactose and proteins from whey (from MILK), rice starch, emulsifier (sunflower lecithin), fruit & vegetable concentrates (safflower, radish, black carrot, lemon, hibiscus), orange oil, spirulina concentrate, glazing agents (carnuaba wax, beeswax white), natural vanilla flavouring. Allergens in CAPS
Additional Information
Vegetarian Friendly!
Plastic Free Packaging!