Kind Candy Classic Mix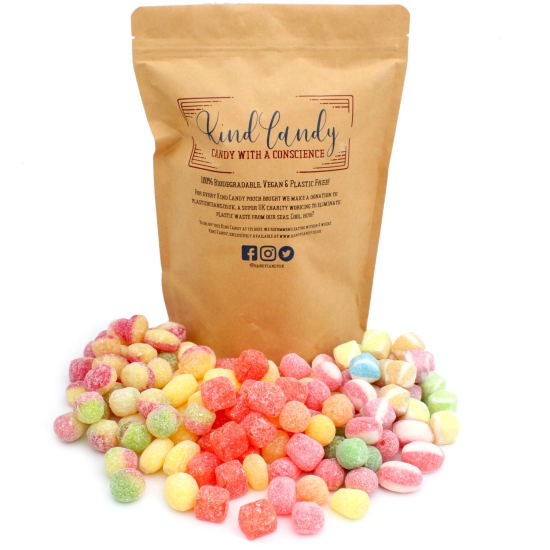 New!
Kind Candy Classic Mix

Kind Candy
If you're partial to a pear drop and love a sherbet lemon, then this plastic-free pouch of traditional, British classic confections is for you! Kola kubes, rhubarb & custard, rosey apples, mini fizzballs and more!

100% vegan
100% plastic-free
100% biodegradable
100% individual wrapper free
£0.50 of Kind Candy pouch sale will be donated to Ocean Generation via Work for Good.
Oceans Generation, a UK charity dedicated to restoring a sustainable relationship between humanity and the ocean. They are championing a global movement to tackle ocean threats, such as plastic pollution, through science, storytelling and education. Find out more about them at
oceangeneration.org
.
Net weight approximately 800g.
Product Information
Ingredients/Contents
Sherbet Lemons, Pear Drops, Rhubarb & Custard, Strawberry & Cream, Rosey Apples, Mini Fizzballs, Kola Kubes Tooty Fruity Dice. All sweets included are vegan, please see individual sweets for full ingredients and allergen information
Approximate Weight
800g
Additional Information
Vegan Friendly!
Plastic Free Packaging!